Purchasing and Activating Simply Fortran
To access all the features of the Simply Fortran Integrated Development Environment (IDE), users must purchase an individual or network license. Purchasing Simply Fortran helps fund ongoing development of the IDE and the toolset packaging. A fully activated installation provides the following benefits:
Unlocks access to dependency checks and makefile generation
Entitles users to all versions of the same major revision (for example, 3.x)
Removal of all nagging dialogs
Simply Fortran can be purchased at: http://simplyfortran.com/register
License Types
Approximatrix offers two distinct licenses:
Individual License
Network License
The Individual License is designed for named users. If the same person will always be using a given copy of Simply Fortran, the Individual License, which is tied to the individual, is the preferable option.
The Network License is designed for organizations where there may be multiple users of Simply Fortran. This registration method allows multiple users to employ a fixed number of Simply Fortran instances within the organization without tying the registrations to any particular user.
Entering Your License Information
After purchasing Simply Fortran, you should receive an email or be presented with a page containing your license details. If you haven't yet installed Simply Fortran, please download and install the latest version. To activate your installation, start Simply Fortran and select Registration… from the Help Menu on Windows and GNU/Linux or the Application Menu on macOS. Depending on which registration type you've purchased, directions appear below:
Individual License
An Individual License is a combination of an email address and registration key, normally of the form XXXXXX-XXXXXXX (The lengths of the two character sequences can vary between 5 and 7 letters). In the Registration/License Configuration window, you would enter your license details as shown below: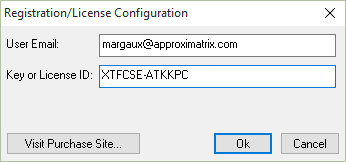 Enter the exact email address used to purchase the product and the code you received after doing so in the appropriate boxes. After entering these details, press the Ok button. If the key validation was successful, a dialog should appear thanking you for your purchase.
Network License
A Network License is comprised of a single identification code of the form xxxxxxxx-xxxx-xxxx-xxxx-xxxxxxxxxxxx. In the Registration/License Configuration window, enter your details: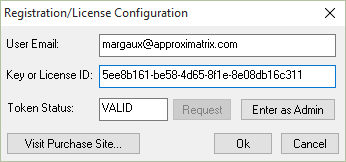 When a license id is detected in the Key or License ID box, the Token Status elements will appear. Once the id is entered, one can then click "Request" to request an access token from the license server. If available, the "Token Status" box should read VALID. Click the Ok button to return to Simply Fortran.
If the user has Administrator access, he or she can click "Enter as Admin" to enter the license id for all users rather than just the current user.
All subsequent Simply Fortran sessions should automatically request an access token from the license server on startup.