Compatibility
Simply Fortran is tested on three major platforrms, and supports multiple versions of each. Our integrated development environment has been created and is designed to run on modern versions of Windows, macOS, and GNU/Linux. With consistent functionality on all supported platforms, users can feel confident that Simply Fortran will provide the necessary tools on their platforms of choice.
Certified Compatibility on Windows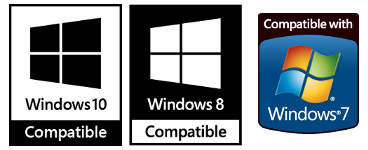 Our displaying Windows compatibility logos on our home page is not just informational. Simply Fortran is Certified for Windows 10, Certified for Windows 8.1 and tested as Compatible with Windows 7 per Microsoft's requirements. Our software is tested and submitted to Microsoft with every release, major or minor, to ensure we conform to strict Windows compatibility standards. Only software that has been approved by Microsoft is free to display these logos.
Support Across Modern macOS Versions

Simply Fortran is tested on multiple versions of macOS, from Snow Leopard through Big Sur. Our packaged compiler and development environment works on all modern macOS versions, and it is capable of producing executables compatible with these operating system releases.