AppGraphics
Available on:

Windows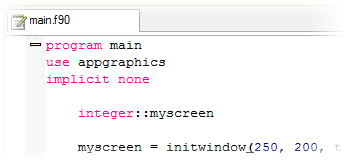 AppGraphics is a simple and powerful library for creating graphics and graphical user interfaces from either Fortran or C. Based on user needs, windows displaying anything from static graphics to complex, dynamic displays can be created. The library supports most graphics primitives, text output, menus, and window elements. All current versions of Simply Fortran include AppGraphics and an included manual to assist users in creating modern graphical applications with ease. All functionality is available in Fortran, and our Fortran interface is designed specifically to be Fortran-friendly, accepting Fortran strings and arrays without any modifications.
Jump into AppGraphics:
Drawing Primitives
AppGraphics supports a variety of drawing primitives for creating custom graphics. Arcs, arbitrary polygons, ellipses, relative drawing procedures, and a wide variety of fill patterns are supported. Drawing is fast and efficient too; Simply Fortran includes a version of Conway's Game of Life demonstrating the speed of AppGraphics with dynamically updated graphics.